ERGONOMIC REHABILITATION SERVICES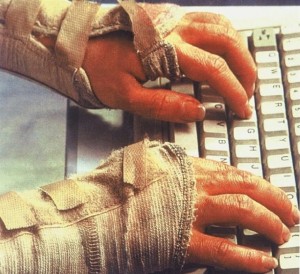 Our ergonomic services provided at the work site involve four interventions designed to address your specific company or department needs and budget:
1.  IDENTIFY THE RISKS
An in-depth assessment of a specific job must be performed to identify risk factors which can cause discomfort and result in injury to workers.  The assessment focuses on the tasks of the job which could cause injury, such as postures, repetitive movements, forceful movements, rest/break cycles and environmental factors that can affect productivity and morale.
2.  ASSESS THE RISKS
All risks are not created equal!  Once identified, each risk will be assessed and documented to provide a clear, objective means to allow you to prioritize a plan of action relative to the most significant risk factors identified.
3.  CONTROL THE RISKS

In most situations, controlling risk and preventing injury will require straightforward solutions and intervention such as modifying work methods, adjusting work stations and educating individuals and/or groups by introducing ergonomic techniques and simple exercises.
4.  EDUCATION AND TRAINING
Education at the work place can be tailored to your organization's specific needs.  Education sessions can be delivered to groups of workers, or to  individual workers at their workstation through one-to- one coaching.  The focus is to assist workers to develop safe work habits.  Our service is user-friendly, non-threatening, encourages employee participation and enthusiasm, and empowers employees to be involved in reducing and preventing injury independently.
OVERUSE INJURIES
Overuse injury commonly affects many individuals who have job tasks requiring repetitive movement with insufficient rest and forceful-awkward postures.  Examples of such occupations are in clerical, computer data entry, assembly line operators, tellers, cashiers, janitors, meat cutters and various construction workers.  Overuse injury is a silent epidemic.
The good news is that most injuries can be prevented at a reasonable cost with little effort.  An investment in prevention can pay for itself over time through, lower medical and insurance costs, reduced absenteeism, maintaining the health of a skilled labour force, and enhancing morale and productivity.
BE PROACTIVE, DON'T WAIT UNTIL AN INJURY OCCURS…
Preventing workplace injury, reducing lost time due to injury and increasing productivity are the most frequent reasons for seeking ergonomic services.  Ergonomic services do promote a safe working environment, minimize and reduce the risk of injury and enhance morale, all the while increasing productivity.
There are numerous studies indicating productivity increases after ergonomic intervention.  The increased productivity has a direct bearing on the company's bottom line.
Our company's service delivery includes:
Assessment Services .::. Occupational Rehabilitation .::. Ergonomic Rehabilitation .::. Community Rehabilitation